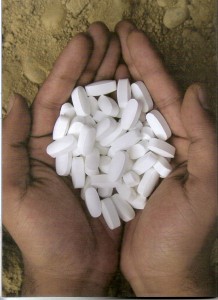 An important new report from the Amsterdam-based NGO Wemos describes how major multinational drug companies are continuing conduct unethical experiments on vulnerable populations including children and the mentally ill in South Africa and other developing countries, putting both their health and their human rights at risk.
I reported on unethical trials like these in South Africa for my book The Body Hunters. The drug industry's stampede into developing countries like South Africa to conduct their experiments continues. With a high degree of inequality in many of these countries, there's a great medical infrastructure in place to cater to the rich, and plenty of poor people upon which to wield it to conduct experiments. The experiments they conduct there often have little to do with the public health priorities of the local communities, mind you. Rather, the trials–which, as Wemos ably shows, endanger the health of enrolled subjects–are aimed at generating data to extend patents on drugs or market new ones in the major US and European markets. It's the very definition of exploitation.
It's not easy to report on these trials. Untangling the science, the ethics, and the regulatory hurdles is tricky, and it's all too easy to sensationalize. Wemos gets it right. It's a great report. Check it out here.